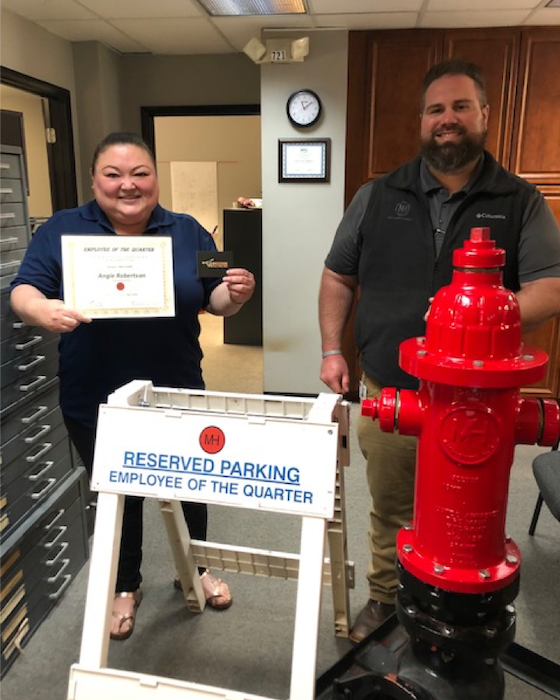 M&H Valve Company is pleased to recognize the Q1 2020 Employee of the Quarter, even in the current environment of social distancing. The presentation was done from the four corners of the room, but Angie and her boss, Griffin Herb, stood slightly closer for a few seconds to pose for the picture. Congratulations Angie!
The Employee of the Quarter program is a peer recognition program to acknowledge Team Members who exemplify performance, attitude, and initiative as shown by their use of the McWane Way Principles: Safety, Leadership, Accountability, Excellence, Trust, Teamwork, Communication, Environment.
Angie Robertson, Inside Sales Representative, is M&H Valve's Q1 2020 Employee of the Quarter. Angie was nominated by coworker Kelsey Wright for Angie's strengths in Communication, Leadership, and Teamwork in living The McWane Way.
Wright stated, "Angie demonstrates leadership, teamwork, and communication daily at her job. She is always sharing information she receives with the rest of our team. Her motto is Sharing is Caring. She has great leadership skills and is always willing to help her team and our customers. Customers always say how much they appreciate her."
Angie Robertson began his career at M&H Valve in 2013. Robertson was awarded a certificate of recognition, a restaurant gift card, and will get to choose a parking spot of her choice as her personal parking space for the next three months.