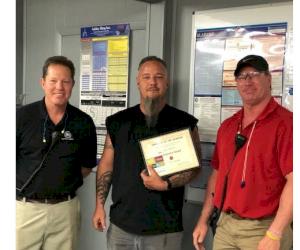 Pictured L-R: Vince Gahafer (Senior Supervisor), Cheyenne Good (Tow Motor Operator) and Cecil Payne (Machine Shop Manager)
We are pleased to announce that Cheyenne Good was selected as the 2019 Employee of the Quarter for the first quarter at M&H Valve Company in Anniston, Alabama. Cheyenne joined the M&H Valve team in 1999 and is a tow motor operator for the hydrant line in the Machine Shop. He was nominated by Senior Supervisor Vince Gahafer based on values and behaviors that exemplify the McWane Way Compass points of Excellence, Teamwork and Safety.

Cheyenne has an eye for quality and is committed to going above and beyond.  In addition to an eye for quality, He goes the extra mile for the team. He recognizes and reports problems with parts, or quantities of parts, prior to them reaching the production line. His attention to detail contributes to team output and allows reaction to issues without affecting production efficiency. Cheyenne is a team player with a winning attitude. To see that the job gets done, he steps up when supervision is stretched at the hydrant rail to provide helpful information about developing issues. His prompt reporting allows supervisors to resolve issues and avoid production delays and stoppage. 

He is a member of the Machine Shop Safety Committee and certainly has a Safety-First attitude. He is actively involved in resolving safety issues and identifying potential safety concerns. M&H Valve Company is excited to name Cheyenne Good Employee of the Quarter. Cheyenne will receive a certificate, restaurant gift card and the coveted honor of selecting a designated parking space of his choice.

The Employee of the Quarter is part of M&H Valve Company's Rewards and Recognition Program. It is a peer recognition program to acknowledge team members who exemplify performance, attitude, and initiative as shown by their use of The McWane Way Principles: Safety, Leadership, Accountability, Excellence, Trust, Teamwork, Communication, and Environment. Those in leadership roles of Manager or above are not eligible to receive or nominate individuals for the award.