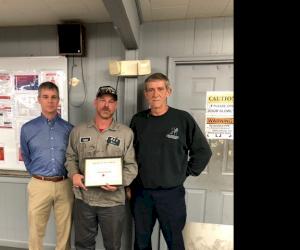 M&H Valve has instituted a new peer recognition program called Employee of the Quarter. This program is designed to recognize team members who exemplify performance, attitude, and initiative as shown by their use of the McWane Way Principles of safety, leadership, accountability, excellence, trust, teamwork, communication, and environment.

We are pleased to announce that Joshua Sweatt was named the first Employee of the Quarter. Joshua began his career at M&H in 2012 as a Wedge Coat Operator.  He was nominated by fellow team member, Nathanial Moon. Moon stated, "Josh exhibits many strong trust related values. He is a man of good character and quick wit. He is also able to think quickly and resolve issues before they arise."

M&H General Manager Tony Orlowski presented Joshua with a Certificate of Recognition and a restaurant gift card.  He will also get to choose a parking spot of his choice as his personal parking space for the next three months.