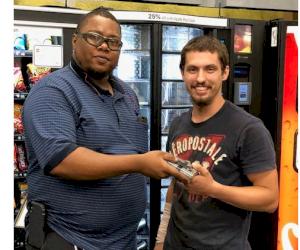 M&H Valve is pleased to announce that Austin Bailey was named the Q2 2019 Employee of the Quarter. The Employee of the Quarter program is a peer recognition program that acknowledges team members who exemplify performance, attitude and initiative, all McWane Way Principles. Austin is a Cleaning Room Utility and was nominated by Travanti Dates (pictured on left) for being an all-around great worker living The McWane Way. He exhibits traits of almost every principle of the compass, especially leadership of self and others.

Dates said, "Austin is a great worker, He communicates well with co-workers, is a great leader on the floor, sets the standard for other team members, works efficiently, and follows the safety guidelines while working."

Austin began his career at M&H Valve in Anniston, Alabama in 2018. He was awarded a certificate of recognition, a restaurant gift card and will get to choose a parking space of his choice for the next three months.

Congratulations Austin.