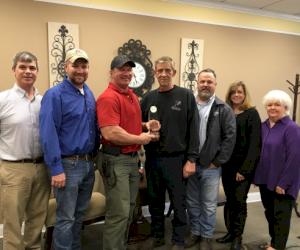 (Pictured from L-R: Tony Orlowski, Jeff Rasmussen, Cecil Payne, Mike Fulmer, Josh Gunning, Stacy Engle and Susan Roach)
In 2017, McWane instituted a new program called the Quartile Club. To be in the Quartile Club, a facility must have a total recordable injury rate (TRIR) at or below the 1st quartile rates for their industry as provided by the Bureau of Labor and Statistics. 

We are pleased to announce that M&H Valve is one of four members that made the 2017 McWane Injury/Illness Quartile Club. We will be announcing the other winners soon so check back here to find out who else achieved this prestigious honor.

M&H General Manager Tony Orlowski said, "I'm proud of the dedication the employees of M&H Valve have shown over the past year to safety – their own safety and that of the people who work beside them every day. This puts us in the top tier of companies in our industry and there's no better exclusive group to be in."

Congratulations to the entire team at M&H Valve for their hard work and dedication to working safely each and every day.