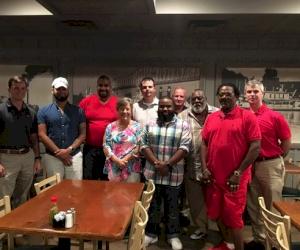 Pictured L-R: Tim Presley (Logistics & ERP Manager), Jose' Martinez, Steve Norman, Krista Beal, Josh Seals (Shipping Manager), Tad Mallory, James Butterworth, Franklin Elston, Larry Mays, Tony Orlowski (General Manager). Not pictured: Len Thomason
On July 12, the M&H Valve shipping department gathered at the Top O' River restaurant to celebrate their achievement of operating for 13 years without an OSHA recordable injury. The shipping department has continually shown a commitment to their 1st responsibility of working at M&H Valve, which is to "To ensure their own safety and the safety of others". Department members and their loved ones enjoyed a delicious meal and the evening was filled with lots of laughter and great stories/fellowship.

The shipping team includes several long tenured employees with a proven safe work record and commitment to the McWane Way. Collectively, the team has an average of 18 years of service with two members at 45+ years of service: Larry Mays-47 years and James Butterworth-46 years.

Congratulations to the entire shipping department team. We appreciate your hard work, dedication and commitment to working safe every day.