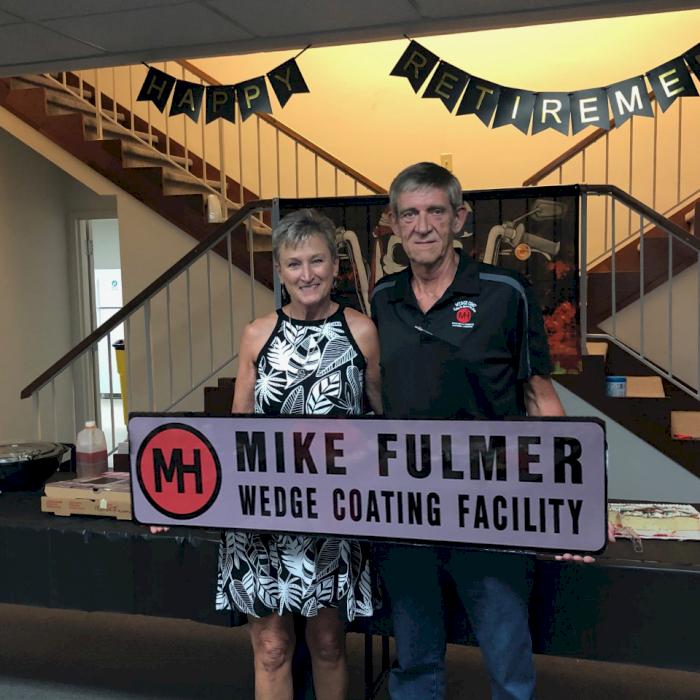 M&H Valve Wedge Coat Manager Mike Fulmer retired today after 26 years of service.  After retiring from the Air Force in 1994, Mike joined the M&H Valve family, following in the footsteps of both his father and grandfather.  Over the years, Mike consistently exemplified and exceeded the McWane Way leadership standards.  Starting as an hourly employee, he rose through the ranks as Machine Shop Supervisor and eventually Machine Shop Manager.  In 2012, Mike was tasked with overseeing a new initiative to build the Wedge Coat Department from the ground up.  M&H's Wedge Coat Department now coats wedges used in resilient-wedge gate valves manufactured by M&H as well as two McWane sister companies, Kennedy Valve and Clow Valve.  To date, the department has coated over 1.8 million wedges and counting!  

In an effort to express profound gratitude for the work Mike has done to ensure M&H's continued success, they announced today that the M&H wedge coat building will now be known as the Mike Fulmer Wedge Coating Facility.  Mike is the first person to receive such an honor at M&H.

Thank you, Mike, and congratulations on your retirement!