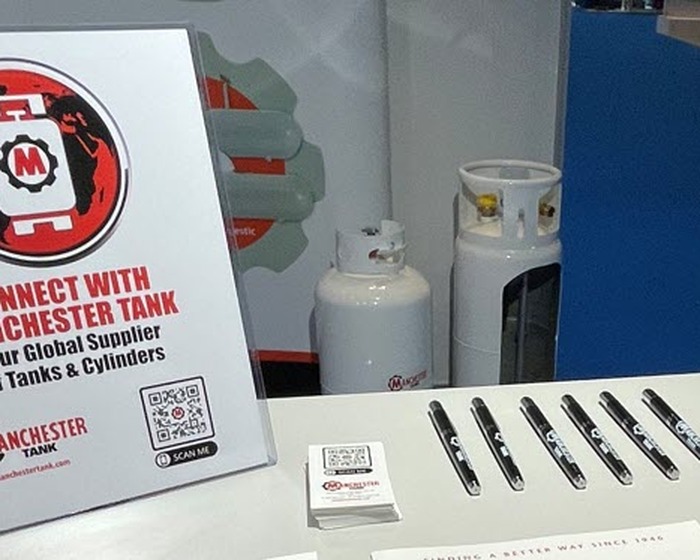 For the first time Manchester Tank's global team, supported by McWane India's team participated in the World LP Gas Association's (WLPGA) flagship event – LPG Week December 5-9 in Dubai.   
|
LPG Week was a huge success. The team met new and existing customers, and suppliers that travelled from all over the Middle East, Africa, and Asia to attend this event. Quickly the team realized that there was a huge interest in Manchester Tank's current product line, specifically small LPG cylinders, 420 lb. portable LPG systems, and horizontal domestic LPG tanks for export.

Following the success of 2021 LPG Week, WLPGA announced that the LPG industry will meet in New Delhi March 5-9, 2022…we'll be there! We're looking forward to the opportunity to highlight Manchester Tank's India operation which will be fully operational by then.

Manchester Tank wants to give a big thank you shout out to the cross-functional team that supported this event.

Manchester Tank: Nancy Chamblee, President; Brendan Dillmann, Sr. VP of Sales & Marketing; Ken Woods, General Manager Australia; Nick Kaczmarek, Director of Shared Services

McWane Global: Harrison Bishop, EVP-Fabricated Metals Group and Gopi Ramanathan – Sr. VP

McWane India: Swami M, Asst. General Manager

​​​​​​​About World LP Gas Association's (WLPGA): WLPGA is the authoritative voice of the global LPG industry representing the full LPG value chain. The primary aim of the Association is to support the sector through driving premium demand for LPG, while also promoting compliance to good business and safety practices. The WLPGA brings together private and public companies involved in one, several, or all activities of the industry.